Original Franchisee Habberstad MINI Celebrates 15 Year Anniversary on Long Island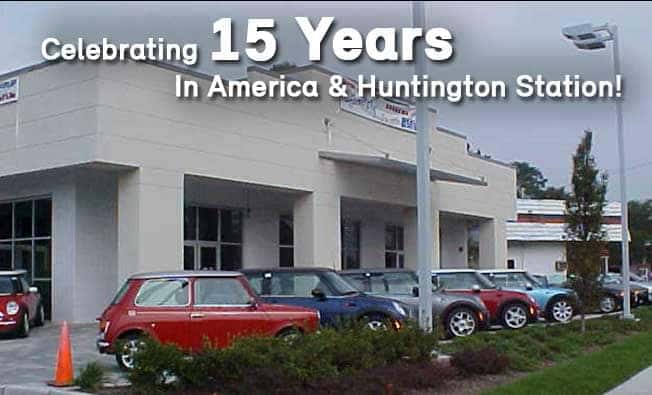 Huntington Station, N. Y. – About 15 years ago a feisty, little-known car company came ashore in the United States and captured the hearts of Americans – and Long Islanders – thanks to Habberstad MINI.
Habberstad MINI in Huntington Station was awarded one of the first 75 franchises by BMW and since 2002, has helped parent-MINI USA to sell and deliver more than 725,000 vehicles to delighted customers across the country.
Upon the grand opening of the MINI dealership in 2002, dealer principal Erik Habberstadoffered these comments. "This is a great honor for Habberstad. Only 75 MINI franchises were awarded by BMW for all of North America and when compared to the more than 300 BMW franchises, you can see that only the best-of-the-best received MINI franchises. Habberstadthanks BMW for the franchise and knows that we will continue our excellence with our MINI customers."
Habberstad is proud to have grown with MINI over the past 15 years, as the brand has grown its vehicle portfolio. Starting with the iconic single MINI Hardtop model, that launched the brand here in the U.S., the inventory now includes four unique models each with their own personality. The MINI Convertible, MINI Clubman and MINI Countryman have become staples of the MINI product line, providing the premium performance, daring design, and fun-to-drive dynamics MINI customers have come to know and love. 
As demand for MINI's increased, so did the reputation that Habberstand built with customers."Our dealership strives to build a relationship with you, not just sell you a car. Our team at MINI will be here for you throughout your entire ownership experience," said general sales manager James Bozza. "At Habberstand MINI, we give you the service you expect from us – and then some – including loaner vehicles, shuttle service, car wash and vacuum, 32-point safety checks, and MINI Factory Trained & Certified Technicians handling every service visit."
MINI has been ranked #1 in Sales Satisfaction by J.D. Power & Associates six times. The brand was also recognized as one of the Top 100 Global Brands by Interbrand, and Strategic Vision named MINI as the Most Loved Mass-Market Brand in their 2016 survey.