Habberstad MINI & BMW Raise $5,000 Donation for the American Cancer Society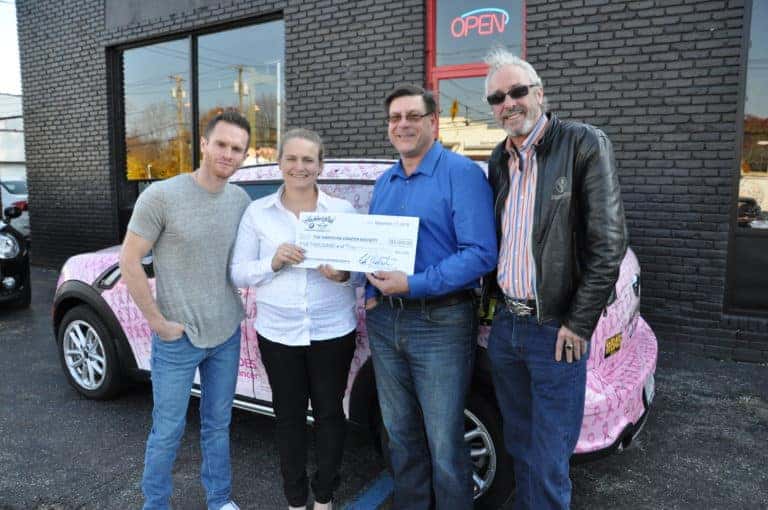 Habberstad MINI and BMW, with the help of our amazing clients, successfully raised $5,000 to donate to the American Cancer Society towards breast cancer research. Over the course of Breast Cancer Awareness Month, all 3 of the Habberstad dealerships contributed donations for each test drive and car purchase, as well as from various existing clients and employees.
The company took the lead sponsorship role for WBAB/WBLI's promotional partnership with the American Cancer Society, which also contributed towards ACS's life-saving research. A 2016 MINI Cooper S Clubman was wrapped with the official logos of all parties involved, and was driven around Long Island for the three month long promotion. It was also seen at multiple breast cancer awareness events, including the Making Strides Against Breast Cancer walk at Jones Beach which raised over $1.5 million dollars. The Countryman certainly wasn't missed, as hundreds upon hundreds of signatures and messages of hope were inscribed along the outside of the car, ranging from a simple name to survivors stories.
This event brought out the true philanthropic side of the Habberstad family, all of whom pushed hard to ensure a successful sponsorship. It was a venture not soon to be forgotten. To all of those who helped make this event a success, we send our sincerest gratitude. If you'd like to donate to the American Cancer Society, visit www.donate.cancer.org.