Employee Spotlight: Vick Babbar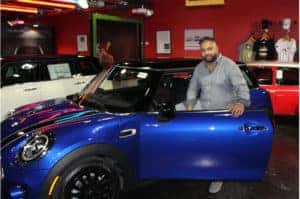 Vick has always loved cars. Growing up in Queens he took great pleasure in helping his dad work on the family vehicle. That joy turned into a passion, which he brought with him when the family moved to Long Island. When the time came to choose his first car, he saved up and bought himself the best: a BMW.
Now, Vick and his wife have made Long Island their home. He has joined the Habberstad family and spends his workdays showing people the exciting experience of driving the MINI, one of BMW Groups top rated brands.
When he's not at work, he relaxes by puttering around his home and–of course–tinkering with cars. While Vick claims to be "just a regular guy," his passion for automotive excellence and his thorough knowledge of vehicles make him an exceptionally qualified person to see when you start thinking about a MINI. Come in today and say hello to Vick. He'd be glad to discuss his passion with you!