CARLOS SAINZ TAKES VICTORY AT DAKAR RALLY 2020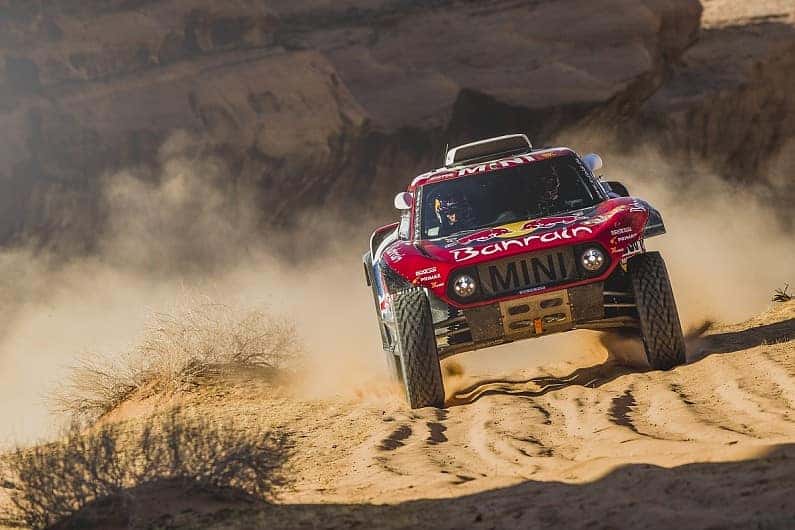 Another Dakar Rally is in the books, and the headline might seem familiar. That's because Carlos Sainz, who took victory alongside co-driver Lucas Cruz, has picked up an impressive third win at the legendary rally. Adding to triumphs from 2010 and 2018, Sainz took his No. 305 MINI JCW Buggy to the finish line in Qiddiya in just under 43 hours, handing MINI its fifth win at the legendary desert race.
Sainz took first place by finishing a full 6:21 minutes ahead of 2019 rally winner Nasser Al-Attiyah. Though the Dakar Rally 2020 was competitive, Sainz and Cruz did their best to lock it down as early as possible — after winning the third stage of the race, they never relinquished the lead over the field.
Bahrain JCW X-raid teammates Stephane Peterhansel and Paulo Fiuza made an impressive showing with a third-place finish overall, coming in just shy of 10 minutes behind Sainz. With two additional top-10 finishes rom MINI JCW Rally cars representing X-raid MINI JCW Team and Race World Team, MINI was dominant throughout all 12 legs of the race. Vaidotas Zala and Saulius Jurgelenas from team Agrorodeo won the very first stage of the rally, establishing from the jump that MINI was the brand to beat.
The Dakar Rally 2020 covered roughly 4,660 miles through Saudi Arabia. The event kicked off in Jeddah on Jan. 5, carrying thorough to Al Wajh, Neom, Al Ula and Ha'il before a rest day in Riyadh on Jan. 11. From there, the race carried onward for six days before wrapping up in Quiddiya on Jan. 17.
"On behalf of the entire MINI family, I would like to congratulate Carlos Sainz, Lucas Cruz and the X-raid team on winning the 2020 Dakar Rally," said Head of MINI Bernd Korber. "Our drivers and the X-raid team performed superbly in Saudi Arabia, which was hosting the rally for the first time, and they were rewarded for the hard work they put in during preparations for the event."