2019 Mini Cooper Gets Cosmetic and Tech Upgrades That Add Personality

The Mini Cooper has always been defined by personality, from cheeky styling to go-kart-inspired handling. For the 2019 model year, the core two-door hatchback, four-door hatchback, and convertible Coopers receive a mid-generation freshening that ratchets up the British flair and invites even more personalization.
On the style front, new for 2019 are an updated Mini logo and three new body colors: gray, blue, and orange. Exterior chrome pieces can be replaced by an available Piano Black trim package.
The Mini's iconic round headlamps are updated, with the regular halogen lights getting black accents. The optional LED headlamps have a new design that promises improved performance. In CR's past testing, we found the halogens to be unimpressive and quite literally they were outshone by the LEDs. (Find out whether HID and LED headlights are worth buying.)
The real light magic is in the back, where the brake lights have been upgraded to feature the Union Jack with the LED upgrade. The flag is integrated into the light function, with the turn signals serving as the horizontal elements and brake lights the vertical. The tail lights are the diagonal lines.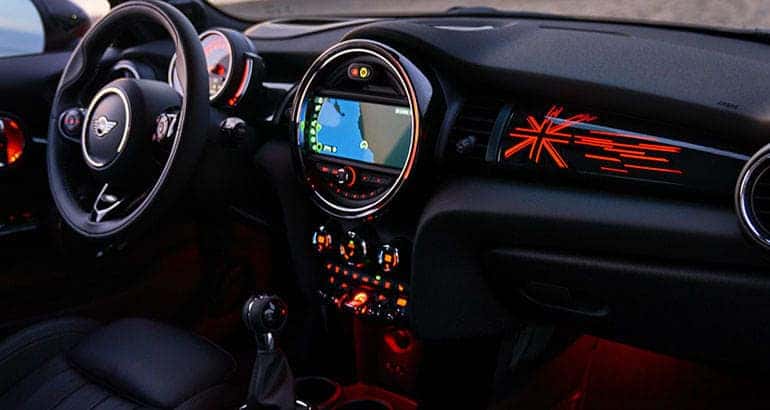 Mini is also offering a wider selection of wheels, leather, interior surfaces, and color accents. The personalization goes into overdrive with the Mini Yours Customised program reminiscent of BMW's Individual program, providing extensive customization—no doubt for a price. Examples include such dealer-installed staples as illuminated door sills, puddle lights, and interior trim accents. Where the Mini Yours Customised program gets bold is in the ability for you to choose unique upgrades created with 3D printing and laser engraving.
Tech Features
These 2019 Mini Coopers will benefit from a new 6.5-inch display for controlling connectivity. A new 8.8-inch navigation system is available, with additional features. In the last Cooper we tested, we found that despite progress, the infotainment system remained challenging to operate, with tiny controls. Further development in this area sounds welcome. (Read our review of the top picks in infotainment systems.)
Optional wireless charging and an extra USB port make the car more phone-friendly.
Connectivity continues as a theme for the 2019 upgrades, with available real-time traffic information via 4G LTE, Apple CarPlay, and the Mini Connected app now integrating navigation and calendaring. Other Connected functions enable the driver to review the car's location, fuel level, and other status via an app. The headlight flasher, horn, door locks, and ventilation can be activated remotely.
Final Impressions
Overall, the mid-generation updates are rather minor. The upside is that Mini has preserved the many virtues of these small cars—namely the efficiency, handling, and fun factor—while addressing some control issues and adding to the distinctive character.
These new Minis go on sale in late March to early April.